Big screen TVs and other electronics need special care when it's time to move. It's no wonder packing stores carry so many different types of boxes and padding. Screens are more fragile than they seem, whether rigid or not, and one small bump along the way could spell disaster for your plasma, LCD or LED set.
Movers typically charge between a few hundred dollars to upward of $1k to pack a home, with some offering per-item costs for things you don't want to pack on your own. And if you pack it yourself, MSN Real Estate says to expect the big screen TV box to cost nearly $100. That's not cheap either. But if you pack it well you should unpack it again in fine condition.
Here are a few tips for getting your TV from Point A to Point B without the risk of damage.
Work in Pairs or a Team
Big-screen televisions are usually lighter than old-school sets, with some exceptions. Older models are sometimes enormous, heavy and have a platform. Regardless of whether your TV is lightweight or a beast, don't try to move it alone.
Obviously you'd want help with a heavier set. But with lighter big-screen televisions, there's another problem: they're fragile. An extra set of hands helps avoid accidental bumps into doorways, tipping over and awkward catches, and the worst possibility of all, drops.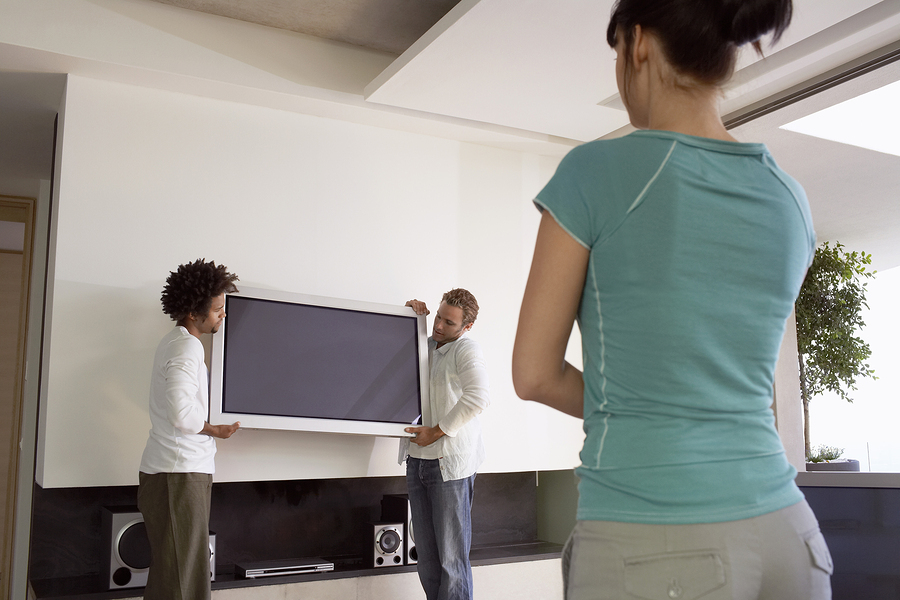 Keep the TV Upright
You've probably heard that flat screen TVs are easier to move because you can lay them flat. With some, that might be true. But to be on the safe side, just don't do it. LCD TVs should never lie flat, according to Opposing Views: Science. Gravity can make edges of the screen droop, and pressure can break the delicate glass panels and grid that contain the crystals.
Think about how the TV is designed to sit. The support is on the bottom of the set, so that's the position where it's least likely to experience damage. Plus, with any big screen tv on its back, anything that accidentally falls on it can destroy the screen.
Pack It in Original Carton
Have you ever known someone who saves original packing for almost everything electronic? That person has probably moved more than once and knows that there's nothing better than what the device was shipped in. If you can, repack the big screen TV in its original carton.
That said, it's better to buy an appropriate alternative carton made for big-screen TVs than to repack it in its original one without the specially molded foam and cardboard supports. Wrapping it in bubble wrap or stuffing newspaper around the set can damage the screen during the move, but if you have no choice, College Muscle Movers recommend at least wrapping it in a soft blanket and wrapping bubble wrap around the blanket.
Protect the Television Carton
Once it's in the box, it still needs to stay upright. Gravity and broken glass remain a hazard with LCDs, even when they're packed well, and a dropped object would wreck any big screen TV. Carry it upright or use two sets of hands on an appliance dolly, and pack it on the truck upright, too.
As for the location on the truck, be aware of hazards all around. Even a short move across town will produce a lot of vibrations, and one pothole can cause a box to fall. Secure the TV with straps, if possible. And if you have two top mattresses (not a mattress and a box spring), slide the TV carton between them for major protection. A box spring has too many hard edges that can damage the carton.
You can stack clothing in a box, and some fragile items are just fine wrapped in paper. But for a big screen TV, you really do need special packing and handling.
No matter how securely a truck is packed, some shifting always happens on the drive. With one false move, the corner of a box could find its way into your screen. But with the right protection, you'll install it again in your new home no worse for wear.
Ready to get started? Mover Junction can help you Find a moving company that will handle all of your belongings with care.