If you think moving households is tough on you, imagine how difficult it is for your furry best friend. Cats, dogs, and other pets have no idea what's happening, but they can pick up on your stress. And the more their surroundings change, particularly with belongings packed in boxes, the more nervous and anxious they might become.
Moving with your pets takes special forethought and careful planning. That's the best course of action for a successful move. Here are 5 tips for making the whole ordeal easier on them and you.
#1: Update Shots and ID Tags
Before moving day, take your pet to the vet for a check-up and any necessary vaccination updates. Some hotels won't allow pets without proof of vaccination. And if you're moving to an apartment or community with strict HOA rules, you might need to show proof of current shots there, too.
Current ID tags are vital when moving with pets. Include your new address, not the old one, and your current cell phone number. And if your vet recommends it, find out about microchipping. If the worst should happen and one of your pets breaks loose, positive ID and contact for you are the only ways you'll have to find him or her again.
#2: Pack Pet Essentials for the Trip
Pets need more than food and water for an extended car trip. They'll need comforts of home, especially if they're nervous about the moving ordeal. Here are some of the supplies that About.com recommends pet owners pack:
Pet meds
Food
Bottled water
Bowls
Spoons
Dish detergent
Pet wipes
Bedding
Veterinary records
Toys
Plastic bags (for trash and pet waste)
Leashes and harnesses
Carriers
Litter, litter box and scoop for cats
Anti-nausea medication (if prescribed)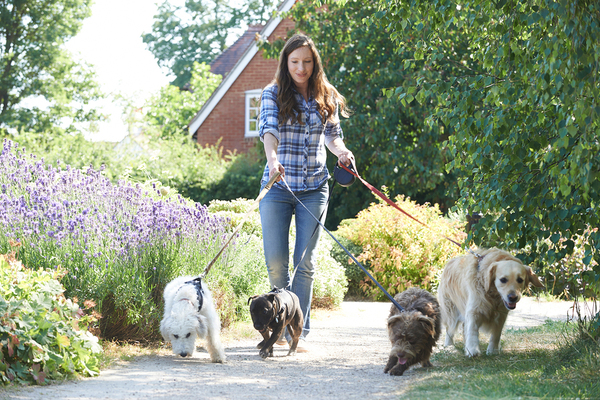 #3: Let a Pet Sitter Take Over
Nervous pets can get underfoot, so it's a good idea to take them to a pet sitter for the day. It's not that they're trying to be annoying, it's more that they're looking for reassurance and comfort when stress gets high. This can be a problem for you, and a bigger one for movers who spend hours at your home. And with all of the doors opening and closing, you don't want a frightened dog or cat to wander out or run away.
A trusted friend or neighbor is a great choice for pet sitting. If your area has a pet daycare, a special day there could be fun or them while easing your stress. As a last resort, think about boarding them or keeping them contained to one room in the house.
#4: Always Place Cats in a Carrier
Dogs are famously great travelers. There are exceptions, of course. But they tend to lie down and nap without trying to get into the driver's lap. At least that's the case with many larger breeds. Cats, on the other hand, need a carrier for their entire time in the car.
Cats are fast. They can dart out an open window when frightened, and be gone in the blink of an eye. And because they're so very curious, a cat that's loose in the car might find her way under the driver's feet. Better play it safe. A carrier gives cats a sense of security and gives you peace of mind.
#5: Arrange for Lodging in Advance
After a day of driving, the last thing that you want is to find a great hotel but learn that they have a no-pets policy. This is something that you should work out well in advance with a long-distance move. A pet-friendly hotel means everyone can stay comfortably, and you won't have to try to skirt any rules.
Research your travel route and book a good hotel well before moving day. Be prepared for an extra fee. Pet-friendly doesn't always mean that pets stay free. The fee would cover any issues such as pet accidents, which helps keep the hotel clean and welcoming for all pet owners.
Some pets are so easygoing that you can put them in the car and not worry about a thing until you get where you're going. But many others need a lot of special attention. They can't understand why all of the activity is happening, and they lose their sense of home. Planning all of the details for your pets makes moving from one home to another as low-stress as possible.
If your big move is approaching, Mover Junction has what you need to plan it down to the nth detail. Get a moving quote to handle the heavy lifting. That way, you and Rover can take it a little bit easier.