Ahh, the king-size bed. It's roomy, comfy… and it's a bear when it comes time to move a household. Isn't it funny how quickly your favorite bed can transform from a spot for dreams into a full-blown nightmare once you try to wrestle it down a flight of stairs? But we can help with that.
Moving a king size bed isn't easy, but it can be done. More than that, it can be done safely with no injury to yourself or damage to the expensive mattresses. Here are a few tips for getting the job done right.
Here are the Tips to Moving a King Size Bed To Get Job Done Right
#1: Decide Whether it Makes the Cut
Before you worry about how to take apart your bed and move it onto the truck, you might want to think about whether it's worth all of the hassle. Sure, a great bed is definitely worth it. But if yours has seen better days, you might think about buying a new one for your new home.
The Better Sleep Council says there's more to consider than the date when you bought it. So many different factors affect a mattress, such as how often it's used, the size of the people sleeping on it, and even the mattress frame. Here's how to tell if yours needs replacement:
Do you wake up sore or stiff?
Have you had a better night's sleep on a different mattress?
Does it have visible damage or sunken spots?
Are you tired when you wake up?
Is the mattress more than 7 years old?
If you answered "yes" to any of these, think about a new set. If not, it's time to get down to the business of moving your king-size mattress onto a moving truck.
#2: Pack a King-Size Mattress Set
While you can move any bed without special supplies and tools, they do make the job easier. Gather a mattress bag or box in the right size, furniture pads, moving blankets, plastic sheeting, moving straps or ropes, and a few hand tools.
If the bed has storage underneath, remove the drawers and set them aside. Then raise the mattress up on one end and move it against a wall. Remember that if your mattress has handles, as many do, they are not for lifting or carrying. Mattress handles are only for nudging and positioning a mattress once it's on a bed. Remove the box springs, as most king-size beds have two, and do the same.
If you have a mattress box, slide the mattress inside, and seal it up. If not, wrap it in plastic sheeting or use a mattress bag. Either method protects it from dust and dirt. Protect the box springs the same way.
#3: Move the Mattress Set Like a Pro
Once the mattress and box springs are ready to go, the easy part is over. Mattresses are heavy, and they're also floppy. That's a bad combination. A king-size model is about 76 inches by 80 inches, although manufacturers do vary slightly. So you'll probably need a helper to moving a king size bed.
Because lifting a floppy, heavy mattress isn't easy, even for two people, there's a trick that can help: spread out a furniture blanket on the floor, slide the mattress upright onto the center of the blanket, and pull up the blanket edges on the front and backside of the mattress. You can grasp the blanket edges much easier than gripping the mattress and use it to lift and slide it out of the house.
Box springs are typically much easier to move. They're lighter, and they're also rigid. Stand the mattress on edge inside the truck and place the box springs alongside it. However, if your mattress is a special variety, such as memory foam, gel, or air-filled style, check with the manufacturer. Some styles should only be laid flat and not stood on edge for the move.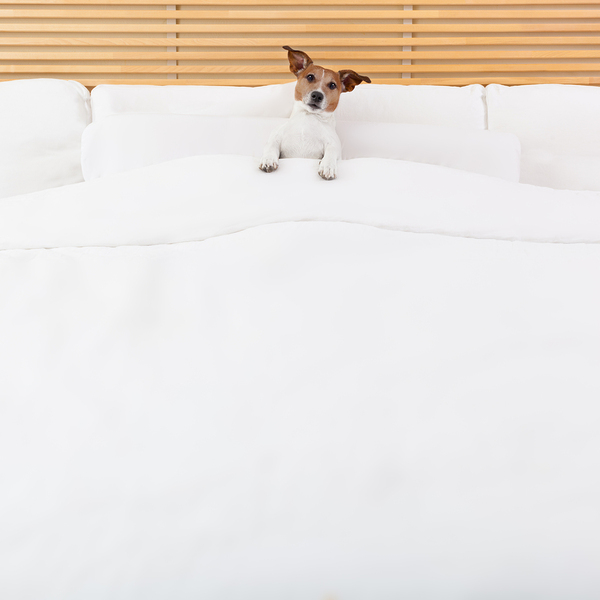 Quick Tips to Make the Job Easier
Every home is different, and you might run into a few obstacles along the way. Here are a few tips that can help you work through the tricky spots of moving a king size bed.
Measure the moving truck before you rent it. Some are too small to fit a king-size mattress set and the bed frame.
Either fully disassemble the bed, or place the assembled bed on the truck as one unit. Partly disassembling it can leave areas of the frame without proper support.
Use a furniture dolly for moving very heavy pieces. A dolly won't help with a king-size mattress, as it's far too large. But it could help with moving box springs, drawers, and other pieces
If you need more space through doorways, you can remove doors fairly easily. Do not remove the hinges, as that makes the job twice as difficult. Instead, tap out the hinge pin that runs up through the center of each hinge. A very thin screwdriver or awl does the trick, and then the door lifts right off. Set the door back in place and tap in the hinge pins once you're done.
Sofas are heavy, chairs can be awkward, and you might lose all of the screws from your favorite table legs as soon as you disassemble them. But moving any bed, especially a king-size bed, is the least favorite job of nearly any move. The more that you can do to prepare for it, the better off you'll be.
If you don't want the hassle of moving your own king-size bed, there's a simple solution. Hire professional movers to do all of the heavy liftings. Mover Junction can help you find the best movers at the best rate for moving a king size bed, and that means your favorite bed will make it to your new home in great condition. That way, you can focus more on setting up a household and meeting your new neighbors.