You've found a new place to live and moving day is fast approaching. And you could tackle it with a few boxes, some tape and a little newspaper. But why go through all of that stress when there are so many accessories that are designed to make your life so much easier?
Gadgets aren't always what they're cracked up to be. But these 9 tools, devices and accessories are worth it. So pop on your favorite moving playlist and get ready to move like a total pro.
#1: Moving Apps for Your Mobile Device
What a fantastic era we live in. It wasn't long ago that keeping track of your move required paper and pen. Now, there are apps that can do everything from taking pics of your belongings to keeping a full inventory as you pack.
Some apps perform a lot of different functions and work more like a planning device. And some perform specific tasks, such as remembering to set up services at your new home. Check out some of the top rated moving apps .
#2: Tape Dispensers
They're big and clunky, and they might seem like an unnecessary expense. But after you've packed and taped boxes for a few hours, you will be so glad that you made the investment in a tape dispenser.
"Gun" style dispensers are easier on your hands than smaller ones that only have a cutting edge. They cost more. But if you're packing up a big house, the investment is worth it if for no other reason than to prevent the tape from sticking to itself.
#3: Specialty Moving Boxes
For most of your belongings, an ordinary cardboard box will do. But what about all of those expensive, odd-shaped and difficult-to-handle items? Specialty moving boxes can save the day as well as your back.
You can find special boxes for electronics, dishes and even mattresses. And if you need to pack something that's an odd size, a moving supply store can help you design and build a box that fits just right.
#4: Moving/Furniture Blankets
Padding keeps your expensive furniture from being damaged through all of the bumps, bangs and jolts that always happen in the back of a moving truck. But furniture moving blankets aren't the same as the ones that go on your bed.
Furniture blankets are tough and made for the job. And you can rent instead of buying them. But in a pinch, you can get by using an old comforter or bedspread to wrap up chairs, sofas and other items that can't fit in a box.
Visit: moverjunction.com today and find a professional moving company to handle all of the heavy lifting.
#5: Appliance Dolly
There's nothing quite like a dolly to save your back and your belongings. You can move a refrigerator without a team of muscle-bound movers, and you'll also save the floors from scratches.
Dollies come in different shapes and sizes. Some are upright and simple, and some have rollers across the back that make stairs easier to navigate. Some are more like platforms with caster wheels on the bottom. There's a dolly for almost every moving job.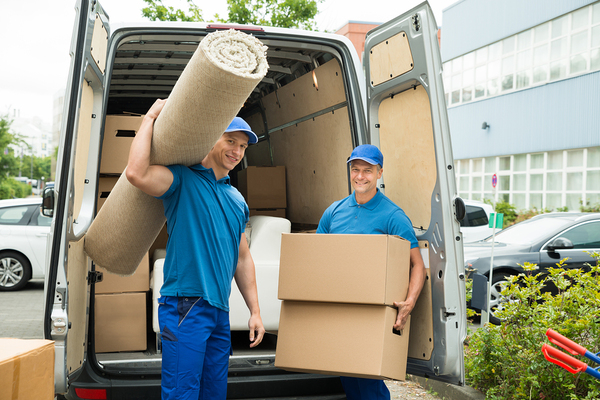 #6: Ratcheting Straps
Everything might look great once it's loaded on a truck, but what about an hour after the truck is on the road? Straps keep everything in place, and that helps prevent damage.
Ropes also work, but they can stretch. Ratcheting straps crank down tight, much tighter than you could pull and tie a knot.
#7: Utility Scissors
If you want to meet someone's ire, use their expensive craft or sewing scissors to cut cardboard and tape. It's not a good idea, especially when utility scissors were made for the job.
Invest in a good pair and they'll also serve you well when packing up gifts around the holidays. And don't forget about a box cutter. That will come in handy once it's time to unpack.
#8: Stair Roller
What a concept! Whoever invented this gadget deserves an award. Stair rollers are like conveyor belts, only manual in operation. They save hundreds of trips up and down the staircase, which saves time and also potential injury.
You can rent a stair roller from some moving supply stores. They look like a ladder. But instead of rungs, they have rollers. Place box on end and you can slide it down to the other almost effortlessly.
#9: Furniture Sliders
For something so simple, furniture sliders are almost worth their weight in gold. Don't let their plain appearance fool you. These little disks make lighter work of moving some of the heaviest things in your home.
Pop one slider under each leg of a sofa, chair, table or even some appliances, and you can slide it across the floor without getting snagged. Sliders with one carpeted side protect vinyl, wood and tile from scratches. Slick-bottomed sliders are great on carpet.
It's certainly possible to move without any sort of special accessories to help. But why would you want to? You don't need all of them, of course. But imagine creating a digital inventory that's right there on your phone. Or what about shoving boxes down the stairs and never breaking a thing?
Accessories are for making life easier. And that's also what Mover Junction does. Whether you want to handle the packing on your own or you don't want to think about it at all, get a moving company quote today and find the right mover to handle all or part of the job with ease.