Erin Pennings is a marketer by trade with multiple cross-country moves (and yard sales!) beneath her belt. She shares her tales about, food, family and life on SalmonAtSeven.com
How would you like to earn money for your clutter? This should be a no-brainer, especially as you prepare for your upcoming move. Hosting a yard sale is a great way to get rid of things you no longer want or need, and for lowering your own relocation costs. The less your moving company has to pack and ship, the more money you'll save. Additionally, it's fewer things that you'll need to unpack when you arrive at your new home.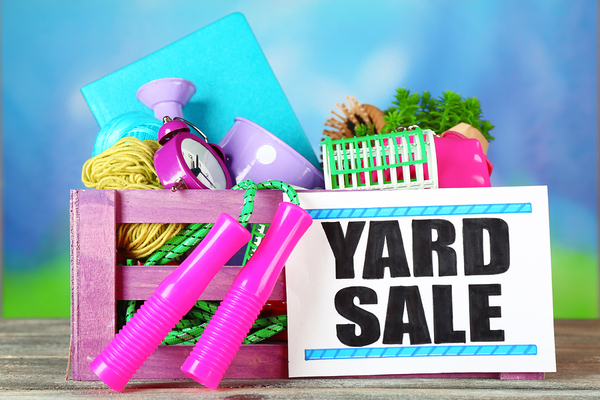 So if you've recently completed a major decluttering, we'd love to help you plan a yard sale so you can rehome all of the items you decided you no longer need. (If you need some great tips for how to purge, check out this thought leader series article!). With an estimated 165,000 garage or yard sales every week in the U.S., we'd love to help you make the most out of yours with these best practices. If you follow our guide, and put in a little bit of advance planning, marketing, and merchandising, you're bound to maximize your success.
Plan Ahead!
If you've got the luxury of time on your side, then research your area for any large neighborhood garage sale events so that you are not competing with them. By the time people return home, they're shopped out and don't want to sort through another sale. (While we're on the topic of planning ahead, have you scheduled your movers yet? If not, click here to get a free moving quote.)
Once you've settled on a date, reach out to friends and neighbors who might be interested in holding yard sales the same weekend. If your friends aren't in your neighborhood, invite them to bring their items by so they can sell theirs. The more things you – and your neighbors – are selling, the more traffic you'll get.
Advertising
Make a basic list of items and categories you'll be selling, particularly if any are high value or rare items; this might include high-end kitchen appliances, tools, sports or baby gear, and more
In addition to street signage, which we'll discuss further in a minute, make sure to advertise your yard sale on a wide variety of sites like Facebook (personal page and sales groups), Nextdoor, and Craigslist. Include the address, days and times of your as well as your general list of items for sale.
Signage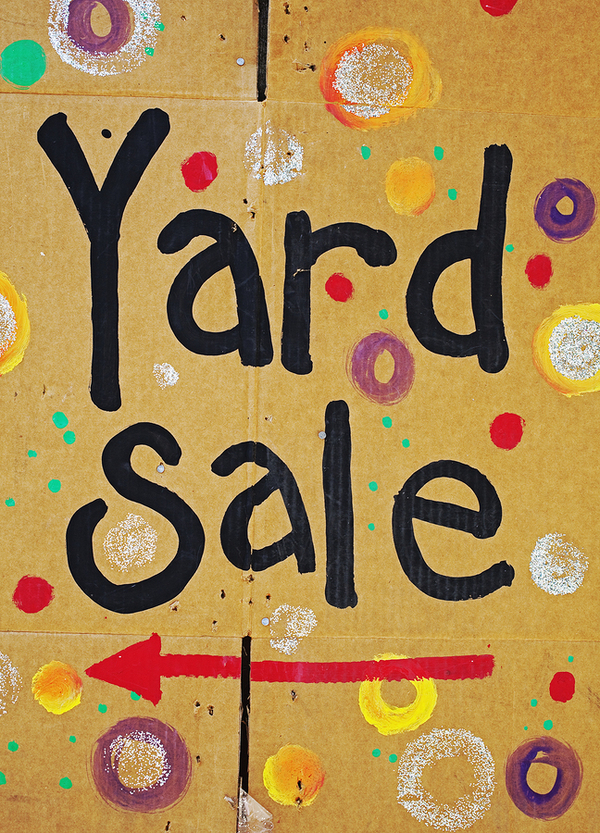 Like with any store or sale, good signage is key to getting people in the door. Or in this case, in your driveway. A day or two before your sale, make your signs. At minimum, include "Yard Sale" and an arrow, but also consider including your address and sale dates and hours. The brighter the better – if you use plain poster board or cardboard, use brightly colored inks, or use a neon poster board and black ink. Adding a balloon or two may help increase visibility too! Don't put up your sign until you are ready for people to start arriving, because the die-hard yard salers will show up right away.
Post the signs on busy street corners near your home. You may not need to post at major intersections, but consider posting at the entrances to your neighborhood as well as on your own street corner to drive traffic your way.
Merchandising
Make use of as much of your space as possible – whether your driveway, yard, or garage, or all of the above. Set up tables, clothing racks, blankets, and tarps and use them to display all of your items. Think of it like your own personal storefront. Would you rather shop somewhere where you can easily browse? Or in a store that has all of its items concentrated in one corner? Maximize your space!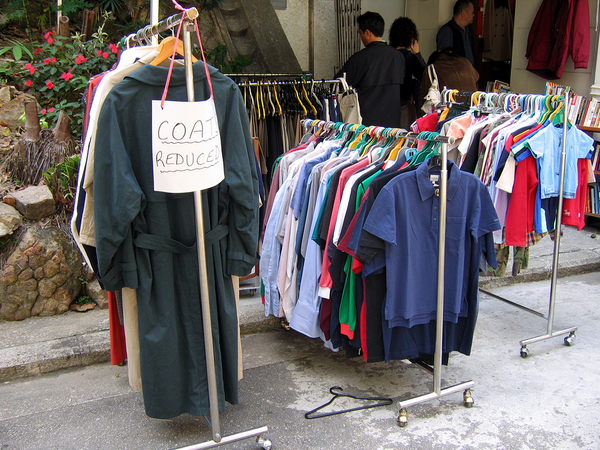 Also, don't sell junk. If you followed our article on purging (linked above), then as you went through your household goods, you selected items to keep, to trash and to rehome. If it belongs in the trash, don't try to sell it. Instead, sell items in reasonably good condition. If you have good items, you'll sell more.
Pricing
People go to garage sales expecting a bargain. So, don't expect to get what you paid for items. Consider charging no more than ¼ to ½ retail. That said, when pricing, give yourself a little room to negotiate. Also, if you have lots of items that are similar, consider setting a single price for them. So if you have lots of books or movies, price them all the same; if you sell them for $3 each and 4/$10, you can engineer a deal, yet still offload lots of items.
We hope you'll keep these tips in mind as you plan a yard sale before your next move. The more things you can downsize before your professional movers come, the happier you'll be. Plus, you'll have earned some cash to treat your family to some fun adventures. Need more great moving advice? Visit moverjunction.com for more tips or to schedule your movers!