Moving is difficult enough, with all of the furniture and boxes upon boxes of personal belongings. Just when you reach the end of it, then you remember, "What about the appliances?" Oh boy.
Some people leave appliances with the home. That's a fairly common practice. But if your appliances are so nice that you definitely don't want to part with them, you'll need a good strategy for taking them from start to finish with as little risk of damage as possible.
Here are four tips plus a bonus for moving expensive appliances.
#1: Rent or Buy an Appliance Dolly
There's a big difference between an ordinary dolly and one that's made for appliances. An appliance dolly is heavier, sturdier, and made for ease of moving large, awkward, heavy loads.
Better models have sliders on the back side, which help prevent jarring when taking the dolly up or down stairs. You can buy a dolly, or rent one, from a moving supply shop if you think you'll never need it again.
#2: Think About Cartons for Small Appliances
You probably won't attempt to carton up your refrigerator or range. But for small appliances, such as microwaves, it's probably a good idea.
Small appliances are more difficult to secure in a moving truck or van. But in a carton with plenty of padding inside, you've got a more evenly distributed load that you can lock down using straps.
#3: Prep Appliances Two Days Prior
If you're moving a refrigerators, standalone freezers, washers and dryers and the kitchen range, all need some prep work at least a couple of days before the big move. For refrigerators, freezers, and washers, unplug them and drain any liquids that might be inside.
Clean out the interior of every appliance and secure drawers, shelves and racks using packing tape. That will keep the insides from shifting and banging around through what might be a bumpy ride. Tape cords to the appliances.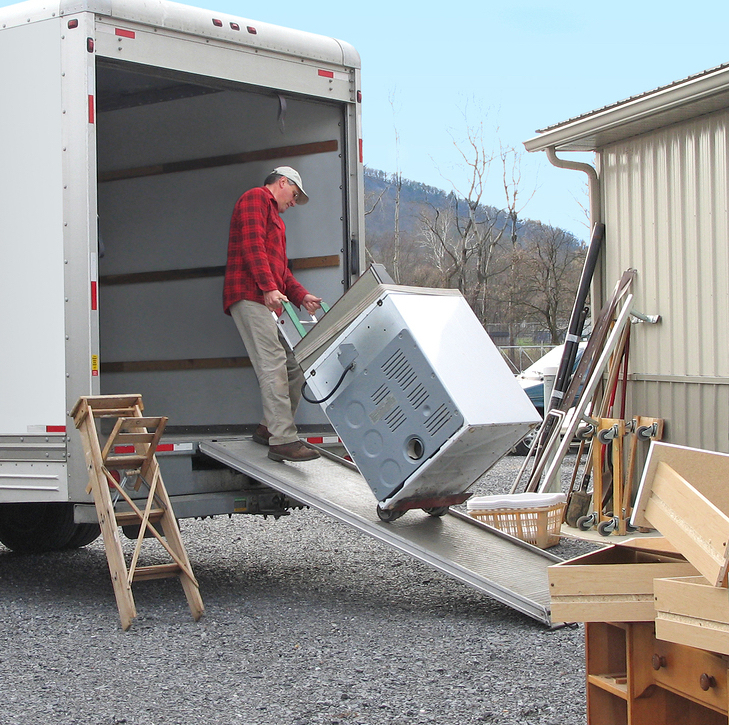 #4: Use Plenty of Padding and Tape
Because most of your appliances won't travel in containers, protective padding is extra important. Bubblewrap provides a reasonable amount of cushion when secured around the appliance.
Add a layer of furniture blankets, and you've got a reasonably protective barrier against scratches and dings after the appliance is strapped down in the truck or van. Furniture blankets aren't cheap, but you can rent them. If all else fails, use thick, ordinary blankets.
#5: Bonus Tip: Go with a Professional Mover
If all of this sounds like a lot of work, you're right. A professional mover can take all of that work, except for the advance appliance prep work, off your hands.
The benefits of professional movers can't be overstated. Not only will you get top-shelf packing, loading and securing, but you'll also get a guarantee against damage. That's hard to collect if you do the move yourself.
Moving is a lot easier when you hire professional movers to do the heavy work. If you want real assurance, find a moving company that gives you peace of mind.